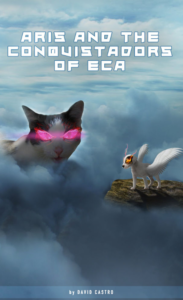 Aris and the Conquistadors of ECA
(Saving Dogmor Book 1)
In this new original book series, you will meet Aris, a dog soldier who strives to protect Planet Dogmor. His job wasn't needed, as everything was peaceful.
But when ECA, an evil group of conquerors attack, it is up to Aris to defeat the enemies.
He gets help from a powerful god, who refuses to end this situation (but gives important information instead).
An epic fantasy featuring inventions, Sci-fi, and more.
Aris and the Attack on The Crystal Of Existence
(Saving Dogmor Book 2)
Aris returns from the past. He was soon put into action when his friend, Kipper gets captured.
He discovers that his race has a Crystal Of Existence, which they need to protect. A new threat comes when the whole Dog Army was away.
Can he and his team save the Crystal from the new threat? And can they finally defeat ECA?
A new reading (and learning) experience
Let's learn together! I'll share my books and articles and share with me yours
What do you want to learn with me?
I am constantly exploring new things so feel free to suggest!
Explore my site today and learn some things you may not have learned before
From my blog
Publishing things that keep the wonder going
This isn't my first blog, or my second one, but I always include THE BEST for my blog. You won't see anything boring, I promise,…
---
So what are you waiting for! Start learning today!
We will never user your data for spam or anything else